Sprouts Cartoons
Sprouts Cartoons are primarily drawn for the Aldbury Outlook, a not for profit monthly parish magazine in Hertfordshire. If you are editor of a similar not for profit publication in the UK and would like to use any of the Sprouts cartoons as a regular feature, please get in touch by emailing me on
penny@bluebeancartoons.co.uk
.
(N.B. Cartoons and ideas on this website are copyrighted by BlueBean Cartoons and may not be used for any purpose without written permission.)
The Characters in Sprouts are Sam, Sally, Bill and Sylvia they live in a village in Hertfordshire.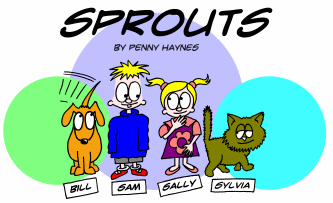 Below are some examples of Sprouts Cartoons. You can click on any image thumbnail to expand it.